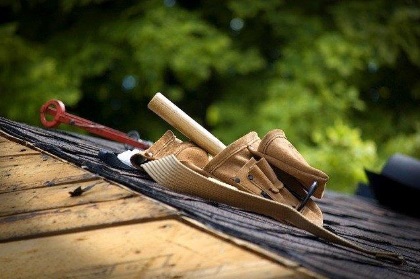 Working on a roof can be dangerous business, especially if you've never done it before. Even to trained professionals, roof work carries a variety of risks that can lead to potentially fatal accidents if they are not identified and minimised accordingly.
In general, falls account for more deaths and serious injuries in construction than any other accident, with falls from roofs accounting for around 24% of all falls, which is the most common. In this blog, we take a look at roof work and at some of the tips that you can follow that will make working on a roof much safer for you and others around you. 
So, let's jump right to it… 
Roof safety 
Regardless of the type of work you need to complete on your roof, whether you're "just popping up" or planning to stay there for a whole day, you will need to follow the necessary precautions to remain safe at all times. You should practice basic safety training and be fully aware of the risks involved with the work you intend to carry out. 
To make working on a roof easier and safer for those who may be unaware of the precautions you need to take, here are a few easy-to-follow tips that'll keep you safe!
1. Check the weather forecast 
Before carrying out any roof work, be sure to take a quick look at the weather forecast for the day(s) in which you intend to work. The weather plays a vital role when it comes to your safety whilst working on a roof so properly planning how you're going to approach your job per the weather conditions is important.
If possible, avoid working on a roof in dangerous conditions such as high winds, snow and ice. Rain can also pose a threat to your safety if working on a slick surface and hot weather can soften roof shingles, leaving them susceptible to damage, so be mindful of this also.
2. Practice ladder safety techniques 
The second tip that we recommend for safe roof work is to always practice ladder safety techniques. Here, you'll carry out pre-use checks to inspect for any signs of damage or wear and tear to your roof ladder's rungs, stiles and feet.  If any are identified, then it is advised to repair or replace your ladder as soon as possible.
Once your ladder has passed its visual inspection and you're happy with its condition, you'll now need to ensure whilst climbing up, you remain as stable as possible. You can do this by always having three points of contact, preferably two feet and one hand, never exceeding the ladder's maximum load limit, never overreaching or leaning sidewards and backwards and ensuring the ladder is positioned on a firm, level ground. 
3. Wear the right gear 
Next on our list of safety tips is to ensure that you are always wearing the correct clothing and gear needed to carry out your work safely. This includes footwear and specialist equipment such as safety harnesses, lanyards and fall arrest systems that help to prevent a fall and minimise the risks in the event of a fall occurring. 
4. Clear the working area 
It is vitally important that you remember to clear your working area whenever carrying out roof work and maintaining a working space that is free from clutter, unnecessary tools and other potential hazards. The items that can cause potential accidents include unsafe access points, damaged sections of the roof and overhead power lines.
Whether you're on the ground or working on a roof, ensuring that your work area is free from debris, tools and materials are crucial to keeping you and others around you safe at all times.
5. Take advantage of specialised safety equipment
The final tip that we have to ensure you remain safe whilst working on a roof is to take advantage of specialised safety equipment that boosts the safety of yourself as well as the surrounding workspace. Here, we recommend using guardrails to help prevent falls. These offer a cost-effective solution to remain safe whilst working on larger surface areas such as commercial roofs. 
And there you have it, tips for working on a roof safely! By following these simple recommendations, you will go a long way towards keeping the people around you as well as yourself safe whilst working on a roof. Be sure to check back to find more handy home and lifestyle tips.